Jesus' Parables
A parable is a literary tool used throughout the Bible. Jesus himself used this method most frequently.
Generally speaking, a parable is a fictitious tale, although usually realistic. The normal purpose of Jesus' parables was to convey a higher, spiritual truth.
The word "parable" (Gr. "parabole"; placing beside) signifies a comparison between two objects. Thus, a parable may contain one main word that's used to mirror another singular concept or object.
The undisputed greatest storyteller!
It's Jesus of Nazareth. He knew that everyone loves to hear stories, which was the medium that he consistently used to communicate his especially good news, such as: Once upon a time there was a man who scattered "seed on the ground" (Mark 4:26); Once upon a time there was "a mustard seed" (v. 31), and so on.

It's easy to see from Mark's gospel, for example, that Jesus had used stories in his communications with everyday people (v. 34) to help them see the world more clearly so they could see and clearly understand the Lord who loved them.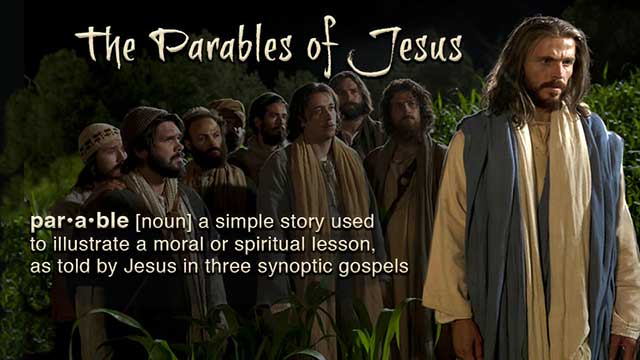 Discover the Parables of Jesus
Why Did Jesus Speak in Parables?
Of all the parables in the Bible, Jesus Christ himself made the greatest use of this literary device. We can only imagine the wonder of the occasions: Jesus — drawing from real-life issues of agriculture, justice, greed, stewardship, finance, and love — would capture each crowd's attention. Yet despite the simplicity, his stories were filled with eternal, spiritual truths.
In this list are all of Jesus' parables, put into five distinct groups. There's also a downloadable list (below-right) of all 44 of Jesus parables that has links to the Scriptures for each parable.
Selected Parables in Five Groups
1. — "Kingdom" Parables Study Materials
2. — "Salvation" Parables Study Materials
3. — "Wisdom and Folly" Parables Study Materials
4. — "Christian Life" Parables Study Materials
5. — "Judgment" Parables Study Materials