Matthew presents . . .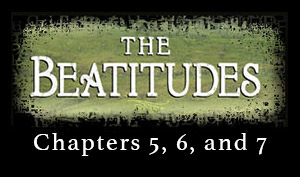 According to Got Questions, the Beatitudes are the eight declarations of blessedness spoken by Jesus at the beginning of his Sermon on the Mount (Matthew 5:3–12), each beginning with "Blessed are . . ."
The Greek word translated "blessed" means "happy, blissful" or, literally, "to be enlarged." In the Sermon on the Mount, Jesus uses the word to refer to more than a superficial happiness; in this context, blessed refers to a state of spiritual well-being and prosperity.
The happiness is a deep joy of the soul. Those who experience the first aspect of a beatitude (poor, mourn, meek, hungry for righteousness, merciful, pure, peacemakers, and persecuted) will also experience the second aspect of the beatitude (kingdom of heaven, comfort, inherit the earth, filled, mercy, see God, called sons of God, inherit the kingdom of heaven).
The blessed have a share in salvation and have entered the kingdom of God, experiencing a foretaste of heaven. Another possible rendering of the beginning of each beatitude is "O the bliss [or blessedness] of . . ."
Jesus' Beatitudes describe the ideal disciple and his rewards, both present and future. The person whom Jesus describes in this passage has a different quality of character and lifestyle than those still "outside the kingdom."

The "Beatitudes"
Plus Jesus' Sermon on the Mount
It was on a mountainside that Jesus spoke to many who'd followed him. His sermon to them, called the Beatitudes, including his complete Sermon, which tells all of us how we must live. This three-part Bible reading, put into a movie format, covers all of this gospel's Scripture: Matthew 5:1 through 8:1.
---
Full-Length Movie — Parts 1, 2, and 3
Part 1 (only 8 minutes)
Matthew 5:1 † Now when Jesus saw the crowds, he went up on a mountainside and sat down. His disciples came to him, and he began to teach them. He said: "Blessed are the poor in spirit, for theirs is the kingdom of heaven. . ."
Part 2 (9 minutes)
Matthew 5:42 † "You have heard that it was said, 'Love your neighbor and hate your enemy.' But I tell you, love your enemies and pray for those who persecute you, . . ."
Part 3 (5 minutes)
Matthew 7:5 † "You hypocrite, first take the plank out of your own eye, and then you will see clearly to remove the speck from your brother's eye. . ."
---
In this special video, thanks to The Bible Project, we can see and appreciate the mysterious promised deliverer whom Matthew revealed. He, the Messiah, would one day come to confront evil and rescue humanity.
‹ ‹ ‹ Return to our Bible-studies Home page.