The Hearty Boys Proclamation
Our Group's Purpose and Commitment
The Hearty Boys are a group of men of various ages who meet weekly to study and discuss God's Word together. We've been meeting reliably for more than twenty-two years. Several Hearty Boys volunteer to rotate at taking turns facilitating our weekly discussions.
Our group's proclamation highlights our purpose and our commitment.
The Hearty Boys Bible-study group:
"Christ's ambassadors to exalt God"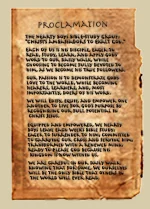 Each of us is His disciple, eager to read, study, learn, be inspired, and apply God's Word to our daily walk, while choosing to become fully devoted to Him, as we become His true followers.
Our passion is to demonstrate God's love to the world, while becoming hearers, learners, and, most importantly, doers of His Word.
We will edify, equip, and empower one another to live for God's purpose by recognizing our full potential in Christ Jesus.
Equipped and empowered, we Hearty Boys leave each week's Bible study: eager to surrender to Him; committed to carrying our cross and serving Him; transformed with a renewed mind; ready to please God because His kingdom is now within us.
We are careful in our daily walk, knowing that for some, we ourselves will be the only Bible that others in the world will ever read.
- - -
23Whatever you do, work at it with all your heart, as working for the Lord, not for human masters, 24since you know that you will receive an inheritance from the Lord as a reward. It is the Lord Christ you are serving (Colossians 3:23–24).
Warren Camp is the creative energy behind Warren Camp Design (WCD), now offering a full complement of Internet marketing and design solutions, focusing on Christian endeavors. WCD provides attractive web design, photo editing, graphic design, and a collection of print and digital resources for churches, missionaries, and Bible-study groups.