The Art World Commemorates Peter
Stained Glass Artwork — Album 17

In addition to the 550 famous "Peter" works of art (paintings, frescoes, etchings, sculptures, and engravings), Warren Camp also presents these thirty-four unique, stained glass creations from the 13th century to the early 20th century.
Whether depicting "Cephas," "Petrus," "Simon," "Simeon," "Simon Bar-Jonah," "Simon Peter," "The Rock," "Peter," "Apostle Peter," or "Saint Peter," each stained glass enlargement of this acclaimed Bible figure comes with factual and enlightening details: the window designer and/or artist; when each work was created; where it can be seen; applicable Bible passages; background and highlights of each work; and photo sources with copyright notices.
To realize and appreciate the impact that Peter had on numerous art-world masters, be sure to click each thumbnail to enlarge it!
• This photo album complements Warren Camp's Bible-study commentaries that he's written for "1st and 2nd Peter" found here.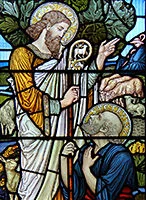 Stained Glass Windows of Saint Peter
---
"Peter" Has Indeed Left an Artistic Mark on Our World
In these albums, see numerous "Peter Masterpieces" created by renowned art masters from around the world.
• Album 1: "Peter, Alone" (29 images)
• Album 2: "Calling Apostle Peter" (12@), "Preaching the Gospel" (6@), and "Powerful Pentecost" (16@)
• Album 3: "Peter's Presence with Other Apostles" (28@) and "Walking on Water" (7@)
• Album 4: "Receiving the Keys of Heaven" (15@), "Transfiguration" (8@), and "Tribute Money" (14@)
• Album 5: "Peter Heals People" (23@) and "The Miraculous Catch of Fish" (13@)
• Album 6: "Peter Gets Freed from Prison" (30@)
• Album 7: "Miscellaneous New Testament Depictions of Peter" (35@)
• Album 8: "Christ Washes Peter's Feet" (26@)
• Album 9: "The Last Supper — Part 1" (33@ of 136)
• Album 10: "The Last Supper — Part 2" (35@ of 136)
• Album 11: "The Last Supper — Part 3" (34@ of 136)
• Album 12: "The Last Supper — Part 4" (34@ of 136)
• Album 13: "Christ's Agony in the Garden" (32@)
• Album 14: "Judas' Kiss," "Jesus' Betrayal," and "Malchus' Ear" (36@)
• Album 15: "Peter Denies Knowing Christ" (32@)
• Album 16: "Repentant Peter" (17@) and "Peter's Martyrdom/Crucifixion" (17@)
• • • And, in Album 17, see "Stained Glass Windows Featuring Saint Peter" (34@)
---
Intro Videos: "First Peter" and "Second Peter"
† Watch this summary video of "First Peter" created by The Bible Project.
† Here's the "Second Peter" summary video created by The Bible Project.
• Special Presentation: See more than sixty of Warren Camp's "Peter Masterpieces" on this 4-minute video clip titled "Holy Week through 100 Paintings," produced by Christian Art.
---