What does Jesus mean when he says that we have to take up our cross daily?
The taking up and carrying our cross is to be a conscious decision to follow Christ, no matter what it may cost. It's not deliberately courting persecution or martyrdom; it's willingly submitting to the results of our faithful discipleship.
When Jesus says we must carry our cross in order to follow him, he's speaking figuratively. What Jesus is actually saying is that we're to model his sacrifice and obedience, in order to become a true and devoted follower of his. Therefore, according to Jesus, in order for us to be a follower of his, we must love God more than everyone else, even more than our own lives.
Billy Graham said, "In Jesus' day, a cross wasn't just a symbol of pain and suffering; it was mainly a symbol of death. What Jesus was telling them is that they needed to put to death their own plans and desires, and then turn their lives over to Him and do His will every day."
Is Christ the master of your life? Have you put to death your own plans and committed yourself to his will for your life? Don't be satisfied with anything less, for there's no greater joy in life than following Christ every day.
Below, see this simple, yet profound, "Bearing Your Cross" slideshow that I've designed and published.

Warren Camp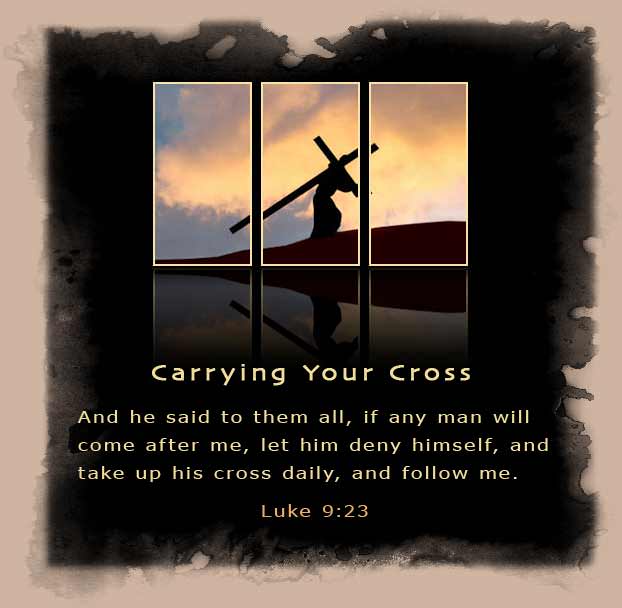 I created this slideshow following the Holy Spirit's tapping me on my shoulder. In my opinion, if you don't accept the burden of "carrying your cross" (i.e., choosing and submitting to Jesus, instead of yourself), your strength and ability to "cope" may be stripped away, as shown in this progressive and revealing slideshow.
Do you need to "cope" with a current challenge? If you do, listen to Jesus and obey his words:
. . . Then Jesus said to his disciples, "If anyone would come after me, he must deny himself and take up his cross and follow me" (Matthew 16:24).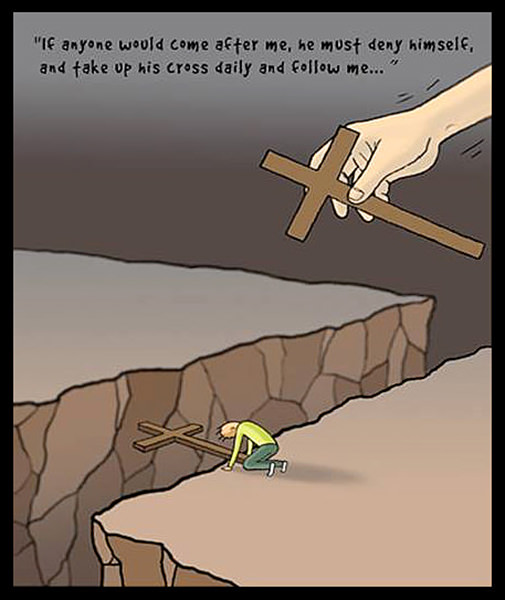 Luke 9:23
Feeling "separated from God" today? Here's a short animated video clip that tells you truthfully how you can be certain that you have a lasting and loving relationship with God and that he has a personal plan for your life.
Setting up and developing a personal relationship with Lord Jesus is easy. Just talk with him as you begin to "bear your cross daily."
You can better understand the importance of carrying your cross by appreciating what Jesus says in his Parable of the Cost of Being a Disciple.
Warren Camp